---
Written by Jan Otte, Wednesday 21 February 2018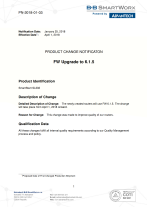 PCN is a name for a specific type of document. The abbreviation means Product Change Notification. It is a kind of a document we issue when there is important change in one or more products we are manufacturing.
Not every change in a product requires a PCN. The documents are here so that we can communicate changes that may have impact on our partners, distributors and customers. Other changes, like, replacing one end-of-life component with equivalent one, may not be significant enough for creating a new PCN.
An example of a PCN could be a notification that a product is using a new revision of cellular module as it may have impact on performance or some other characteristics.
We are making the PCNs for quite some time. The change that is happening now is that we are starting to publish new PCN (also) on Engineering Portal. A few most recent PCNs were published yesterday and from now on, new PCNs will be published as well.
You can access the PCNs in two ways:
Every PCN shows up in affected product. Where you are looking at a product for which some PCNs are published, you can notice a new tab appearing in the "Documents for download" section - a tab named "PCN". As an example, you may look at the PCNs for SL302 product.
You can access all the PCNs directly at the all PCNs address. Note that because of the tagging, some files may appear multiple times on the page.
Hope you find this way more convenient and accessible!